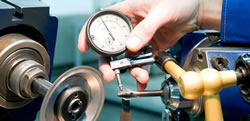 For more than 30 years, Paradigm Corporation has provided specialized machining services, ranging from design and engineering to prototyping and fabrication to assembly and inspection.  Our machining capabilities include:
Drilling
Electropolishing
Grinding
Broaching
In addition, thanks to our working partnerships with top Philadelphia companies, we are also able to offer:
Anodizing
Black Nickel
Tufram Coating
Black Oxide
Chrome Plating
Clear Chromate CR6 + Free
Dykor Coating
Wet Paint
Powder Coating
Welding
Conveniently located outside Philadelphia, we've worked with regional companies in the high-tech, medical, pharmaceutical and retail industries to manufacture automated assembly components and custom parts from the following materials:
Steel
Aluminum
Copper
Brass
Plastics
Stainless Steel
Nickel Alloys
Paradigm can produce parts using simple client drawings or complete 3D models.  We can also create specifications and designs based on individual project needs.
Contact Paradigm Corporation if you're seeking a reliable technology partner with years of proven experience developing and producing automated assembly components.