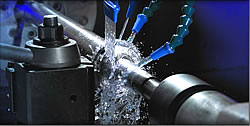 Paradigm maintains a fully equipped CNC turning department to offer a complete range of production options, including:
Single/Multi-Axis
Tapering
Contouring
Radius Cutting
Threading
And More
While the bulk of our CNC turning services are applied to prototyping and short-run projects — we specialize in the application of complex machining solutions and quality precision production to create ideal real-world products — our experience offers immense flexibility. No turning project is too complex or too small.
By utilizing more complex multi-axis CNC turning techniques, we are able to produce diverse parts for automation robotics, automotive applications and custom assemblies (e.g., combinations of pulleys, shafts, flywheels, etc.).
Though known for our high-tech applications, Paradigm has the expertise to assist clients in a wide variety of industries, ranging from pharmaceutical to robotics, automotive to aeronautical, and beyond. We are able to turn:
Aluminum
Brass
Copper
Stainless Steel
Titanium
Nylon
Nickel Alloys
Acrylic
Contact Paradigm Corporation if you're seeking a reliable technology partner with years of proven experience developing and producing automated assembly components.